Once you complete the registration process, you will receive a confirmation email that includes a confirmation code, letting you know you have successfully registered for the 2022 GMiS Conference. You will also receive an email from PayPal confirming your payment has gone through.
$150 – Early Bird: April 22nd – September 18th (Does NOT include hotel)
$250 – Regular: September 19th – October 2nd­ (Does NOT include hotel)
$350 – Onsite Registration: October 3rd – October 5th (Does NOT include hotel)
Pre-Conference STEM Career-Readiness Coaching Webinars 
Career and Graduate School Fair 
Speed Networking Breakfast (Fri) 
Hospitality Suites 
Resume Review Room 
Plenary Luncheon (Fri) 
Competitions –   Research Poster Competition 
Student Leadership Awards Show 
HENAAC Awards Show 
Conference Workshops and Seminars 
The VIP pass can be added for $70 and will include the following:
Primary Access to Pre-Conference STEM Career-Readiness Coaching Webinars 
Early Access to the Career and Graduate School Fair 
Front-of-line Access to Hospitality Suites 
Access to VIP Lounge and opportunity for exclusive networking with company leaders
Access to free Financial Planning Workshop and Advice 
VIP wristband, lanyard
Other opportunities to be added 
The last day to cancel your conference registration and receive a partial refund (minus a 15% admin fee) is 11:59 PM Pacific Daylight Time (PDT), SEPTEMBER 9, 2022. Cancellations after this deadline will not receive any refunds.
We recommend arriving Wednesday night, October 5th, or early morning on Thursday, October 6th. The conference will be over by Sunday October 9th. The conference is located at 300 E Green St, Pasadena, CA 91101.
A link will be available on the conference website for the partner hotels which are the closest hotels. Hotels are located within walking distance of the convention center the furthest ones being about ½ a mile and 10 – 12 minute walk to the Pasadena Center.
The Pasadena Convention Center is located at 300 E Green St, Pasadena, CA 91101.
From Los Angeles International Airport(LAX):
Take the 1 California FWY
Take a slight right turn for 105 EAST Fwy
Take exit for 110 Fwy
Keep left for 110 North
Continue 110 Fwy N
Continue onto arroyo seco Pkwy
Turn left onto E Colorado Blvd
Make sure to spend some time looking at the conference schedule of events. Plan for which Hospitality Suites, Networking Sessions, and other events you would like to attend. In addition, look at the list of companies and graduate schools that will be at the Career Fair so you can begin to create a list of the ones you would like to speak to the most.
While the goal for all conference attendees is to look professional, the attire they choose can vary greatly. If you are looking for that internship or job, take a look at these examples of how you can dress for the career fair/interview.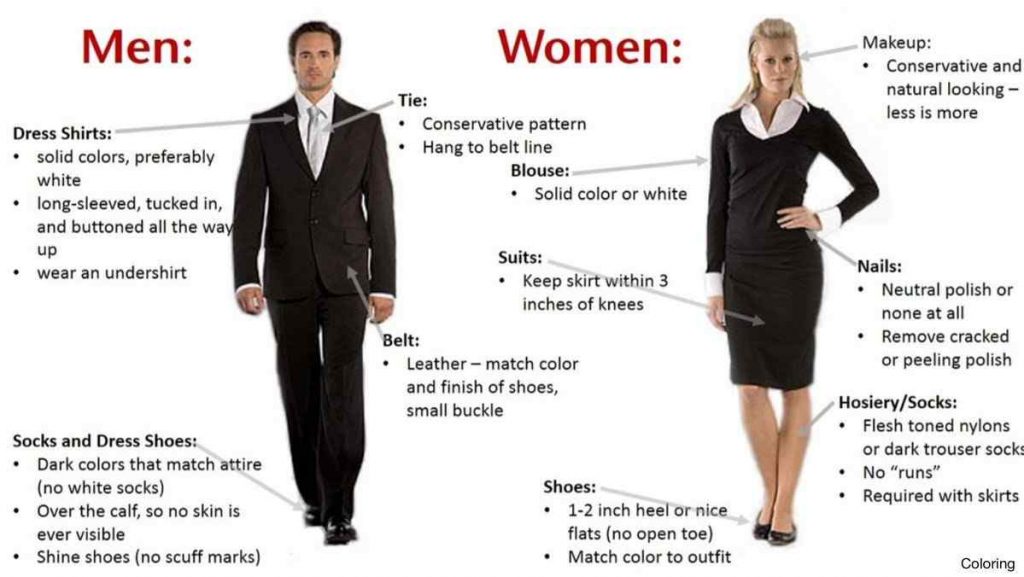 Make sure your resume is well-polished. Make any updates and improvements as well as have an advisors, faculty, career counselor or trusted friend help edit your resume into the proper format.
Following your resume update, spend time composing a 1-2 sentence elevator pitch that succinctly tells who you are and your career aspirations. Practice your speech and be confident when you speak to a company representative.